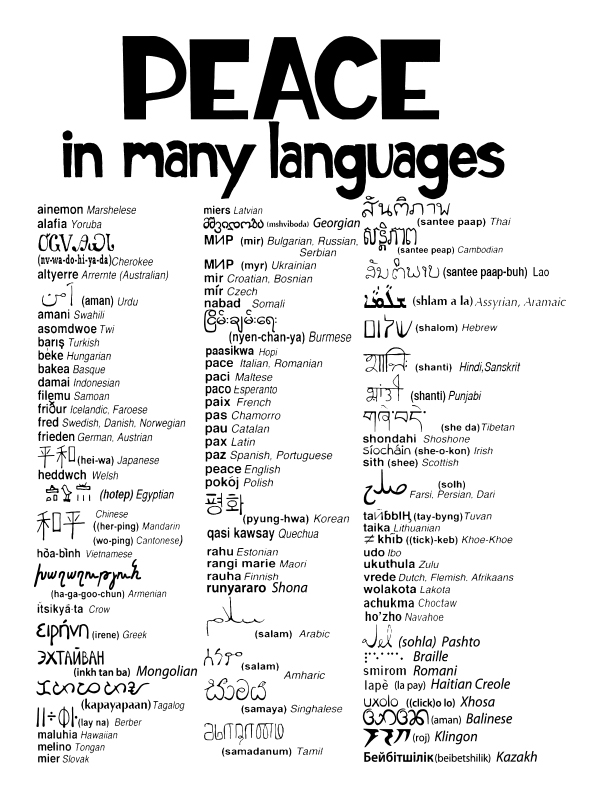 PEACE in 39 Languages
By Pravrajika Akhanda–prana
Call & response style.
A1. Peace (English) Paz (Spanish) Pache (Italian, Romanian)
A2. Pax (Latin) Axti (Avestan of Persia) Ashtee (Pashto, Farsi)
A3. Salam (Arabic) Shalom (Hebrew) Shalama (Aramaic)
A4. Shi (Gaelic) Shiwa (Tibetan) Shanti (Sanskrit etc.)
A5. Suhl (Old Turkish, Arabic, Urdu etc.) Solh (Persian, Farsi) Sola (Pashto, Afg.)
A6. Heian (Japanese) Heping (Mandarin Chinese) Hoa Binh (Vietnamese)
A7. Hetep (Egyptian) Here (Mali–Bambara) Haeana (Bolivia–Aymara)
B1. Irq (Ethiopia–Amharic) Eyuwi (Nez Perce) Eirene (Greek)
B2. Fred (Swedish, Danish) Vrede (Dutch) Friede (German)
B3. Mir (Russian) Miers (Latvian) Miru (Old Church Slavonic)
B4. Emem (Nigeria–Efik) Aman (Urdu, Malay) Amani (Swahili)
B5. Amniat (Persian) Amaithi (Tamil) Amahoro (Rundi, Kinyarwandu)
B6. Hozho (Navajo) Wolakota (Lakota) Skennenkoewa (Iroquois–Mohawk)
C1. Ament (Egyptian) Amen (Latin, etc.)
C2. Aymen (USA variant) Amiin (Arabic & Orthodox)
C3. Ameyn (Hebrew, Aramaic) Omeyn (Ashkenazi Jews of W. Slovakia etc.)
C4. Uumeyn (Ashkenazi Jews of E. Slovakia etc.) Aum (India, also OM)
Aum Shanti Shanti Shantih
Peace, Peace, Peace be to all!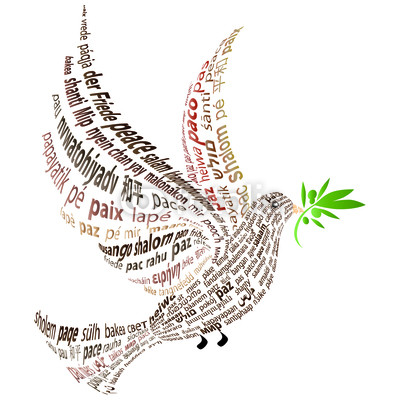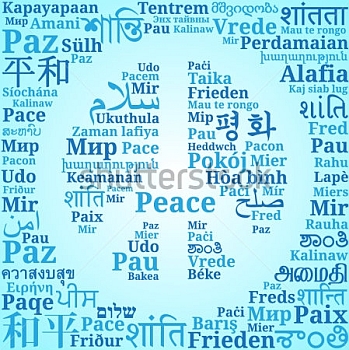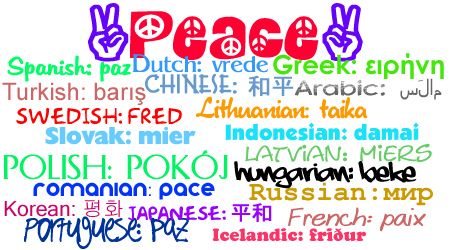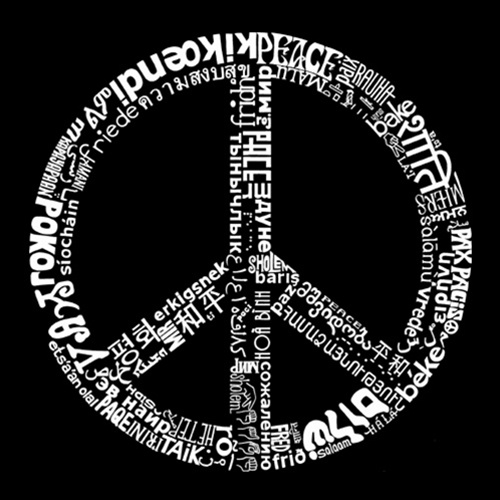 FOR MORE INFORMATION AND OTHER PEACE ACTIVITIES:
John Randolph Price World Healing Meditation —
www.quartus.org/world-healing-day/world-healing-meditation
Locations of events all over the world — www.quartus.org/world-healing-day/locations/
History of the Hour For Peace — www.hourforpeace.org/history.html
Ways To Practice Peace — www.hourforpeace.org/ways.html
Prayers For Peace From Many Faiths — www.hourforpeace.org/prayers.html

On Facebook: International Hour For Peace, Northern Colorado


Paul K. Chappell's work on "Waged Peace" and "The Road to Peace" Book Series — www.paulkchappell.com, www.peaceliteracy.org, www.peacefulrevolution.com
Peace Literacy Study Group: 4th Sunday of each month, 6 pm, at the Quaker Meeting House, 2222 West Vine Drive, Fort Collins. Sponsored by the Northern Colorado Chapter of Veterans For Peace. For details, contact Paul Gessler, pumapaul@frii.com.
Meetup Group: www.meetup.com/Peacemakers–of–Northern–Colorado. Peacemakers of Northern Colorado is for people who seek to practice and create peace in their own lives and in the world. We support events throughout the year that promote peace, interfaith cooperation, and intercultural understanding, often collaborating with other peace, faith and humanitarian organizations. Our focal event is the December 31st International Hour For Peace observed all over the planet at noon Greenwich time, which is 5:00 a.m. Mountain Time.
If you feel inspired to participate in any of our Northern Colorado events in any way, please contact the regional coordinator, Dr. Victoria Gardner at Hour4peace@att.net, 970-663-9001. No contributions are too great or too small!
"Peace is the natural state of affairs when that which prevents it is removed." Dr. David R. Hawkins